QuickBooks has been the gold standard for business owners looking to take control of their company's accounting methods since 1983. However, the program takes up a lot of space on computer hard drives. A slow, overloaded system makes keeping track of your information much harder. Worse, you'll have to contend with security issues, plan for hardware failures, and deal with downtime while you wait for others to finish tasks on that shared computer.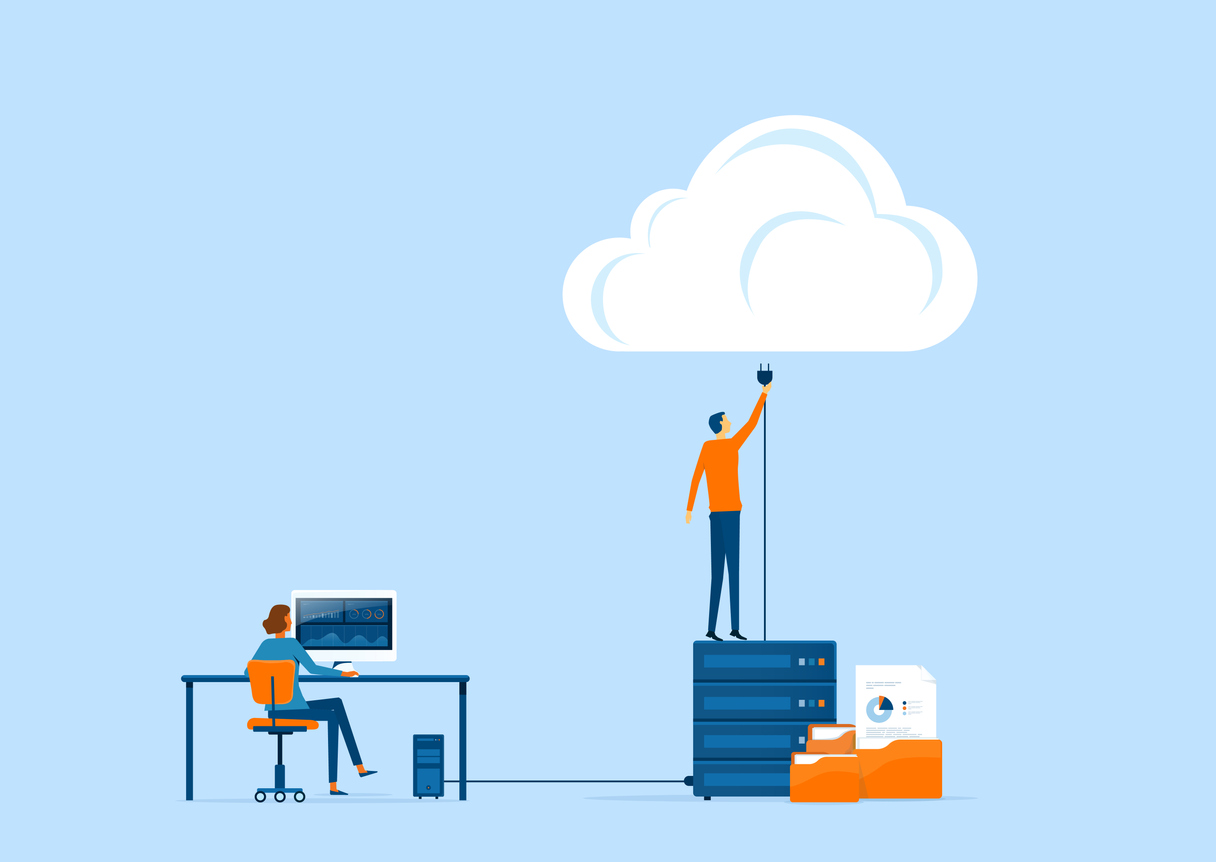 Online hosting for QuickBooks in the cloud makes managing your financial data much easier. So, how does QuickBooks cloud hosting work, and why should you make the switch?
How Does QuickBooks Cloud Hosting Work?
Using QuickBooks is a great way to streamline your business's accounting process. It helps you keep track of your expenses, payments, receipts, and everything you need to keep your finances in order.
When you buy a licensed copy of QuickBooks, you can install the program in two ways: directly on your work computer's hard drive or in the cloud.
How QuickBooks Desktop Works
By installing the QuickBooks Desktop program on your computer, you're able to access tons of features that make accounting and bookkeeping simple. You can add it to as many computers as you want, but you have to set up a multi-user network to be able to access a company file on more than one computer at a time. This means that if you have QuickBooks installed on 3 computers within one network sharing environment, only one computer can access a single QuickBooks file simultaneously.
It gets a little more complicated if more than 1 user wants to work on the same company file at the same time. This would require each user to purchase their own QuickBooks user license. When this happens correctly, users can then freely collaborate on the same file within their multi-user network.
This makes storing and sorting through files easier, but the limitations of QuickBooks Desktop may contribute to accounting backlogs and delays.

How Online Hosting for QuickBooks Works
When you choose to use a QuickBooks cloud hosting provider, you're able to install the same QuickBooks program you know and love directly on a dedicated server in the cloud.
So, what is the cloud?
Think of the cloud as a separate hard drive for your computer that doesn't take up space in your office. You're able to pay for as much storage space as you need and can count on the cloud to grow with your business. You'll be able to run your licensed version of QuickBooks with ease.
Since the cloud doesn't involve saving files on your work computer, you're not locked into using the program on a single work device. Instead, you're able to access all of your QuickBooks information from any device with an internet connection. This can be at your office, from your tablet, or at home.
All you need are the appropriate log-in credentials, and you can access QuickBooks anywhere.
As you make updates to your QuickBooks files, those changes get saved in the cloud, not on your computer's hard drive. That means everything stays up to date across all devices. As a result, if anything happens to your work computer, you won't have to worry about losing your sensitive financial data.

Are There Limitations?
When it comes to QuickBooks, there are some limitations associated with using the desktop version. Like what was mentioned above, you can download QuickBooks to several computers, but each user must have their own QuickBooks license to freely collaborate on projects and data files at the same time.
Another limitation is that bank transactions are not automatically synced on the desktop version of QuickBooks. You'll have to manually update the file to get the new information. This isn't an earth-shattering problem, but one that is inconvenient to busy professionals.
You're also only able to use the program on-site and won't be able to access files online from a mobile device. This lack of freedom and flexibility makes it a little harder to run a business on the go.
For most business owners, that's not just inconvenient; it also makes the accounting process take longer and increases the risk of certain tasks falling through the cracks. Worse, hackers can easily access that sensitive financial data, putting the security of your business at risk.
If anything happens to that work computer, you'll find it difficult to recover your data completely. You'll also find that support options are limited for QuickBooks desktop users.
The cloud also makes your data more secure. The data stored on the cloud is backed up each night, and those backup files are kept on hand for 30 days. If you ever need to restore your QuickBooks files, they'll be there.
Using online hosting for QuickBooks eliminates a lot of these limitations. You're able to use the program anywhere, whether you're at work or away. Even better, you're able to store as much data as your business needs by upgrading your cloud storage plan without worrying about filling up your hard drive.
Choose Quarium as Your Trusted QuickBooks Cloud Hosting Provider
If you're looking for online hosting for QuickBooks, look no further than Quarium. When you sign up, you'll be able to utilize a dedicated server that uses the latest in encryption and security technology to keep your data safe at all times. Contact us to learn more about how QuickBooks cloud hosting from Quarium can help you improve your business.